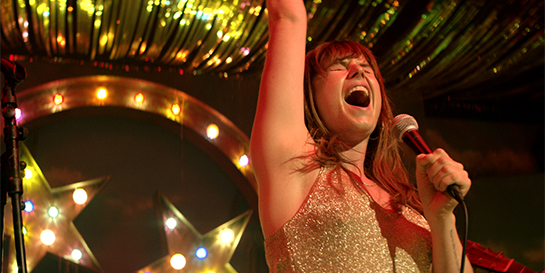 Island are taking the reins for the release of the Wild Rose film official soundtrack on April 12, but not without the help of the Globe team who have steered the music from script to screen.
Directed by BAFTA nominee Tom Harper, Wild Rose is an uplifting story with an original soundtrack about family and dreams. It had its world premiere at the Toronto International Film Festival last September and is due to hit the screens in the UK on April 12.
The standout track Country Girl was released on Friday after getting its first play on Bob Harris' BBC Radio 2 Country show last Thursday. The song, which was written by Primal Scream who released it as a single in 2006, soundtracks a key moment in the film and is performed by fast-rising actress Jessie Buckley.
Jessie found the writing and recording experience for the film so rewarding that she has since performed the songs live and will be playing shows with full band following its release.
Starring alongside Julie Walters and Sophie Okonedo, Buckley plays Rose-Lynn Harlan, a fresh-out-of-prison single mother of two, bursting with raw talent and a dream to leave Glasgow for Nashville to make it as a country star. Her performance has already impressed audiences at the Toronto International Film Festival and the BFI London Film Festival.
Globe, via their Soundtrack and Score set-up, were integral to the creation of the soundtrack. The team began working on the project from the script stage with the film's producer Faye Ward and went on to work closely with director Tom Harper, writer Nicole Taylor and Jessie Buckley to develop a music project which was true to the ethos of the film.

This progressed into the making of the soundtrack in close collaboration with Island Records and music consultant and executive producer Ian Brown.

Globe President Marc Robinson says, "We are very excited that this wonderful film is being unleashed on the world. It is the most collaborative film and music project we have worked on yet – we are extremely proud of the results. Working with Island and Ian Brown, and so closely with the filmmakers and Jessie Buckley has been brilliant. Jessie is total star and performs the songs like a world class artist."