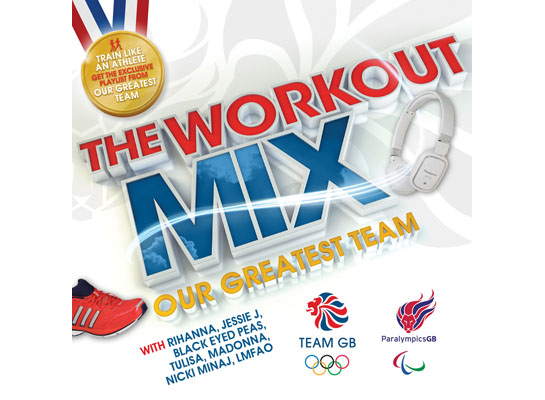 Get ready to train like an Olympic athlete with this three-disc fitness album that provides the best cardio-pumping tunes for a spinning class alongside some of the tracks used by Great Britain's best athletes to motivate them on bitterly cold winter training days.
The BPMs and heartbeat are raised with the first two 60 minute long CDs, Push It and Feel The Burn, which feature 36 tracks from huge artists such as Rihanna, Nicki Minaj, Lady Gaga, Madonna, Rizzle Kicks and Jessie J.
These non-stop, hi-energy mixes, including Tinie Tempah's massive hit and Brit Award winning single Pass Out and the Gemini Remix of Lana Del Rey's Born To Die, are guaranteed to get the blood pumping and sweat pouring even before the third disc, Going For Gold, in the box-set is opened.
This disc features 21 tracks handpicked by leading Team GB and Paralympic GB athletes. Find out which song pushes marathon world record holder Paula Radcliffe during her many 42.2km slogs, which tune motivates champion diver Tom Daley when he stands on the 10m high board, and which singer gives Goldie Sayers her focus as she prepares to throw a championship winning javelin.
Among the songs on Going For Gold are Fatboy Slim's Right Here Right Now, Insomnia by Faithless, Push It by Salt N Pepa and Mr. Brightside by The Killers.
Click HERE to visit the official product store.