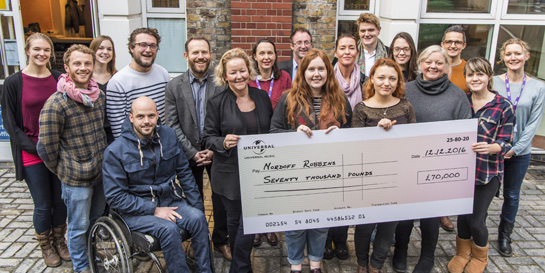 Universal Music UK's staff charity of the year Nordoff Robbins have been presented with a cheque for £70,000, the results of the team's fundraising over the past 12 months.
Jo Carter, Director of Marketing, Fundraising and Communications at the charity says: "A huge thank you to everyone at Universal Music for their amazing fundraising efforts. Every penny will go towards training the next generation of music therapists and your generosity will leave a lasting legacy that will change thousands of lives for many years to come."
Contributions towards the total have come from a wide range of activities, nearly half from the cyclists who rode 300 miles, through wind and rain, from Kensington to the Eiffel Tower in three days.
Over £5,000 was amassed via donations from coffee purchases in the Universal Music cafés, while pop quizzes added nearly £3,000 to the pot.
L – R: Frances Thomson (Nordoff Robbins Music Therapy Masters student), Sam Pert (student), Charlotte Cripps (student), Michael Seymour (Communication Manager, Universal Music UK), Oscar Lotis (student), James Baulk (Corporate Manager, Nordoff Robbins), Janie Orr (Charity Office Head, Universal Music), Hannah Taylor (Nordoff Robbins MMT student), Simon Procter (Director of Music Services, Nordoff Robbins), Fearn Braidwood (student), Gillian Farkas-Blake (student), Lawrence Snelgrove (student), Afra Jurkiewicz (student), Penny Vavoulidou (student), Jo Carter (Director of Marketing, Fundraising and Communications, Nordoff Robbins), David Bacon (student), Vicky Spinks (student), Katy Cork (student)