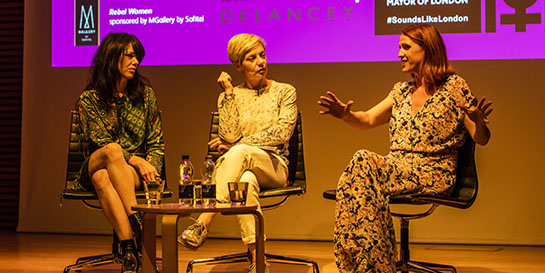 (Pictured above - Imelda May, Miranda Sawyer and Becky Allen)
Universal Music teamed up with the National Portrait Gallery this week to provide an exclusive insight into the music business with Rebecca Allen, President of Decca Records and singer-songwriter Imelda May, one of biggest-selling UK female artists of last year.
The discussion, chaired by writer and broadcaster Miranda Sawyer, focussed on advice for people wanting to break into the music industry on or off-stage. Topics ranged from getting your foot in the door and why it's never too late to make it on stage.
The audience, which included young people from the likes of ELAM and the Roundhouse as well those already in careers looking for a change, were treated to Imelda's first-hand experience of making it in music and Rebecca's insights on the range of job opportunities available in the industry. She also encouraged attendees to check out Universal Music's industry leading internship scheme.
Before the session concluded with networking and a meet and greet, the speakers were asked to give one piece of advice on breaking into the industry. Rebecca talked about the importance of "grabbing every opportunity no matter how big or small", while Imelda encouraged the audience to, "do something you love, start from the bottom up and have fun with it".
Talking after the event, Rebecca said, "Events like this are so important in helping to provide people with a clearer path into the music industry, so it was brilliant to be involved. Like Imelda, I didn't realise this job existed when I was at school, so I hope we've been able to shed light on some of the exciting opportunities that are out there in the world of music."
The event formed part of the Mayor of London's Sounds Like London festival, a month long celebration of the capital's grassroots venues, up-and-coming talent and music heritage. In the year of the centenary of the women's vote, the festival also highlights the important contribution made by women in the music industry.
The National Portrait Gallery are also marking the centenary with a #RebelWomen season, which includes a special gallery trail exploring the extraordinary achievements of women from the past. Becky joined a number of leading women, including Miranda Hart and Gillian Wearing in selecting portraits of inspirational women to feature in the trail, which runs until the end of the year.