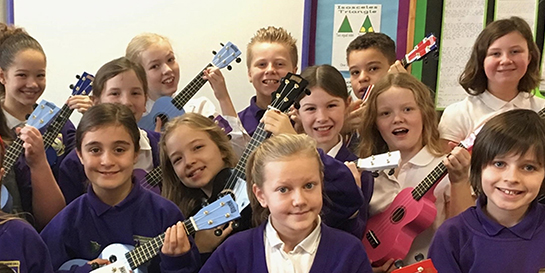 Charity celebrates a record £8 million donated to provide children with access to instruments and equipment, music lessons and bursaries, making the Foundation one of the UK's largest funders of music education and also announces new name - Universal Music UK Sound Foundation
 Renamed Universal Music UK Sound Foundation
 £8 million plus donated over 21 years
 Awards to 10,000 individuals and schools
 £2.4 million donated to 26 secondary schools country-wide, providing long term support
 New bursaries granted for three Master of Arts (M.A.) in Music Education through partnership with the UCL Institute of Education (IOE)
 600 bursary students supported across 11 music colleges and organisations
London: September 2, 2019 -- EMI Music Sound Foundation celebrates its 21st anniversary as it reaches a landmark £8 million in donations, grants and bursaries aimed at improving access to music education for young people.
In addition, the Foundation announces a name change to Universal Music UK Sound Foundation, reflecting the substantial support the independent charity receives from Universal Music Group, the global parent company of EMI Music who set up the Foundation with a capital investment in 1997.
For 21 years the Foundation has supported music education for young people with awards going to over 10,000 children and schools for the purchase of musical instruments, equipment and training. The awards give support to a new generation as they discover music, further their education, and foster a lifelong interest in music.
Since its inception the Foundation has supported 26 secondary schools across the country, investing a total of £2.4 million, helping the schools to specialise in performing arts and music. Each year, it supports an additional 200 children studying at these schools with the cost of their music lessons via the charity's Hardship Fund, as well as funding training for 250 teachers in their feeder primary schools. As part of the 21st anniversary, on top of their yearly award of £6000, each of these sponsored state schools received an extra £5000 in funding for 2018.
The Foundation also offers annual bursaries to 11 partner music colleges and organisations via a rolling programme. Bursaries are awarded to individual students to assist with their fees and living expenses, with more than 600 applicants benefitting from the programme.
Commenting on the bursary support that the Liverpool Institute of Performing Arts receives, Sir Paul McCartney said: "On behalf of our students, from Liverpool and beyond, we are grateful for these awards which help make what can be impossible, possible. The Universal Music UK Sound Foundation is enabling many worthy students to learn, despite financial handicaps."
Adam Barker, Chair of Trustees, Universal Music UK Sound Foundation stated: "Since our inception in 1997, the Foundation has focused on ensuring that the significant benefits and the joy of studying music remain available to as many young people from all backgrounds across the UK as possible. Universal Music is proud that our support allows 100% of the charity's funding to be channeled to the vital work that the newly re-named and highly respected Universal Music UK Sound Foundation undertakes year after year."
Expanding its commitment to the future of music education, for the first time, the Foundation has provided 50% tuition fee support to three MA students at the UCL Institute of Education (IOE) who, as part of their studies, will conduct research into the wider benefits of music. These students have just embarked on their MAs, covering research into areas of importance: "The effects of music education on mental health in adolescents", "The impact that music education has on the social integration of children who speak little or no English" and "The wider benefits of music education on other areas of the curriculum".
"For so many young people music is an incredibly important lifeline. I am delighted to have supported the Foundation for 20 years and to have seen the positive impact they have made to so many schools and individuals through the power of music." noted Yoko Ono.
"Music is about so much more than just learning to play an instrument or read music or spotting the protégés of the future. Music can bring huge benefits to all children, including self-confidence and motivation, regardless of their musical ability," says Janie Orr, MBE, CEO, Universal Music UK Sound Foundation.
Natalie (22 years old), a bursary recipient and Royal Academy of Music graduate noted, in relation to her time there: "Both my parents are deaf but, my mum does enjoy watching me play and I think perhaps if they weren't deaf it would have affected the journey because they never forced me into anything, anything I did was because I enjoyed it and I wanted to do it. I'm so lucky to be studying in such a fantastic school that every second I can, I want to be doing something."
The music industry contributes over £4.5 billion to the UK economy every year and plays a key role in driving revenue and technological innovation across the creative industries, by supporting the next generation in their music education, the charity remains committed to contributing to the industry's future.
Sir Cliff Richard added: "I have been fortunate to have had a successful musical career for over 60 years, so I fully support the work of the Foundation. By generously helping with the purchase of musical instruments and equipment and by way of invaluable personal bursaries, the Foundation has helped thousands of young musicians pursue their dreams."